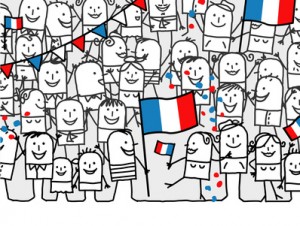 Bastille Day is the word used in the English-speaking countries to describe what is commonly referred in France as "Fête Nationale" or "Fête du 14 Juillet". It celebrates the storming of the Bastille in Paris by the French revolutionarists and symbolizes the start of the French Revolution on July 14th 1789.
For years it is a non-working day in France. The traditional festivities begin at 10 AM with the military parade on the Champs Elysées. It is followed all day long by festivals, food fairs, parties, one of the best-known being The Paris Firemen Public Ball. Here are some great ways to celebrate Bastille Day abroad. If you are an expatriate or not.
Cook some French cuisine at home
Invite friends over to your place and indulge in French cuisine. July 14th is the perfect day to plan an outdoor lunch and barbecue, arounds quiche Lorraine, salade niçoise, French Fries with chicken, ratatouille and pastries ( macaron, apple pies, for examples ). These ones being the perfect companion of a good coffee.
Join the celebration in the heart of the city in Santiago de Chile
You can also attend even abroad the July 14th military parade, other than on the web. For example, in Santiago de Chile, there will be a traditional parade – Défilé de la Pompe – on Sunday 13th.
Have a Bleu, Blanc, Rouge toast in Chicago
In the heart of Chicago, on Daley Plaza, say Cheers. There you could also listen to French live bands, play the French game of Pétanque, dance, or want to watch the race « Course des Garcons de Café ». After that why not sample bakeries and sweets?
Attend a French fashion show in Brisbane
This Saturday and Sunday, in Brisbane, on a boat on the South bank. Oh la la !  Trés chic.
Over 10 hours a day of French entertainment and food for family and children, with 80 exhibitors.
Enjoy a French book, or movie with your family at the Alliance Française or French embassy.
Spend some time at both of these places in your town. It is the opportunity to read magazines books and rent some movies from these cultural and historic centers. It is better to check the Alliance Française or embassy agenda of the country you are living in.
Crédit photo  © NLshop – Fotolia.com