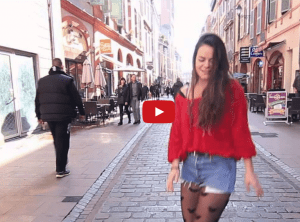 When hip hop singer Pharrell Williams released « Happy » last year, a colloboration song to the Despicable Me 2 movie, it was hard to predict the huge success of its music video clip. Until fans worlwide picked up the vibe and decided to cover « Happy » with their city at the center stage of their video clips, instead of Los Angeles.  And as you will see, French had a lot of fun !
Wherever you are from, wherever you live, there is always a way to put it in words, and celebrate it in music. And when you get the inspiration from Pharrel Williams Academy Award nominee song « Happy », chances are you'll get the buzz  starting fast and going for quite a while.
The « We are From » movement
The upbeat, mood-lifting song topped the charts in 15 countries last year, and was a big hit on the internet, thanks to its video clip, which was tagged as « the world's first 24 hour music video ».
The video consists of the four-minute song repeated with various people dancing and miming along the song in the streets of LA, and has a shortened version which plays 3 minutes and 53 seconds.
The original video spawned many cover videos on YouTube called « Pharrell Williams – Happy – We Are From [name of the city] ».
So let's present the best « Happy » video clips playing on Youtube, featuring French cities.
Happy : We are from Toulouse
Happy : We are from Paris
Happy : We are from Bordeaux
Happy : We are from Lyon
Happy : We are from Angers
And below, the original video clip by Pharrell Williams